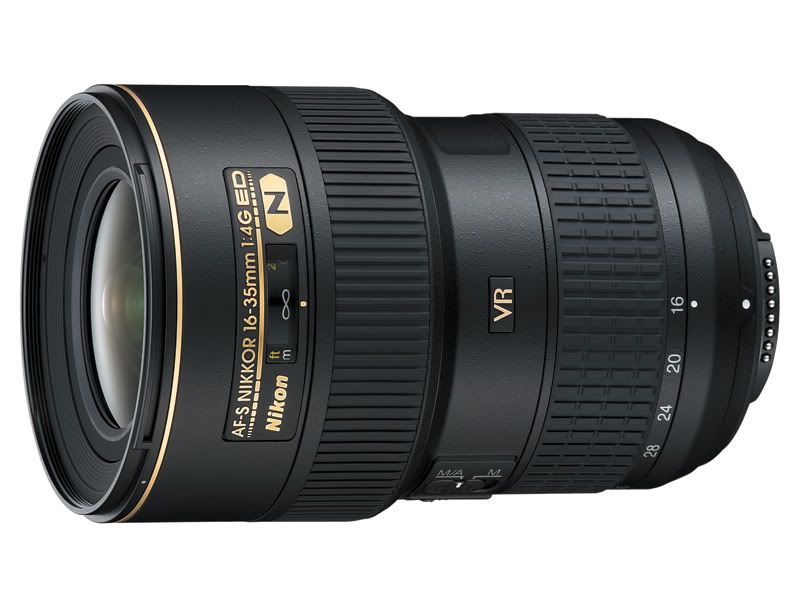 Nikon has announced the launch of two interesting lenses - an ultra wide-angle lens with vibration reduction (VR) technology and a high-performance 24mm prime lens. Just when photographers around the world were about to give up, finally a manufacturer came around to our point-of-view that even wide-angle lenses can benefit from having image stabilization technology! It took them years, but we're still glad it finally happened (hopefully it'll open a flood-gate of more wide-angle lenses with vibration reduction technology). The new
AF-S NIKKOR 16-35mm f/4G ED VR
is designed for full-frame performance, although it is not f/2.8 like the Nikkor 17-28mm AFS. I guess Nikon is going to keep us waiting for a while more for a f/2.8 VR lens! The VR technology is an improvement over its predecessors, delivering up to four stops of stability when shooting in low-light. Optically the lens look promising, featuring Nikon's Nano Crystal coat, two ED glass elements and three aspherical glass elements.
The
AF-S NIKKOR 24mm f/1.4G ED
seems designed to go head-on against Canon's 24mm f/1.4 L Mk II lens. With a wide angle of view and such a bright aperture, the 24mm f/1.4 lenses deliver a unique perspective unlike any other lens. This lens will appeal strongly to photojournalists and event/wedding photographers with its focal length and ability to shoot in low light. Unfortunately Nikon didn't up the ante by throwing in VR at the same time, or this could be the ultimate photojournalist lens of all time! As you might expect, the AF-S NIKKOR 24mm f/1.4G ED features Nikon's Nano Crystal coat, ED glass, aspherical lens elements, and even nine blade rounded diaphragm for the ultimate in image quality. I'd be interested to see how this lens match up to Canon's 24mm f/1.4 L Mk II lens!