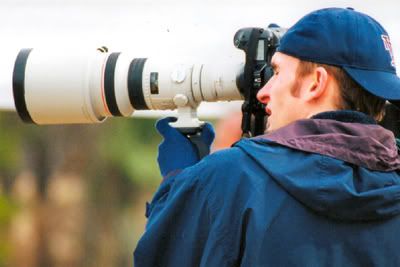 Be careful now... the police might not be able to distinguish between a telephoto lens and a rocket launcher...

In a unusual display of unhappiness, photographers in the United Kingdom have gathered in London's Trafalgar Square to protest against the police's treatment of photographers in the country. Under Britain's Terrorism Act 2000, the police were endowed with greater powers to step up their efforts against terrorism, and this included the capacity to search anyone they deem suspicious, regardless of whether they had reasonable suspicion of wrongdoing.
Numerous working photographers, amateurs and even tourists have been stopped and searched by the police, on the suspicion that they might be conducting "hostile reconnaissance", and the tension between photographers and police increased over the past few years. The photographers alleged that their civil liberties were being violated for the most innocent act of photographing famous buildings or indulging in basic street photography, all from public areas and street where photography is permitted.
"We are photographers, not terrorists" became the slogan for a group of disgrunted photographer's campaign against the terrorist act's power to "stop-and-search". It is really unfortunate that the police chose to equate terrorism with photography, simply because it is a high-profile and easily spotted activity that a terrorist might use to gather information. One might even postulate that the police might be targeting photographers as an act of publicity to show how serious they are in protecting the homeland. The sad fact is that the police are even harassing photographers taking photos of well-known and well-documented buildings, which terrorists can easily download readily-available photos.
Read more about the protest here:
http://www.cnn.com/2010/WORLD/europe/01/23/photography.protest/index.html?hpt=Sbin
http://photographernotaterrorist.org/2009/12/mass-photo-gathering/