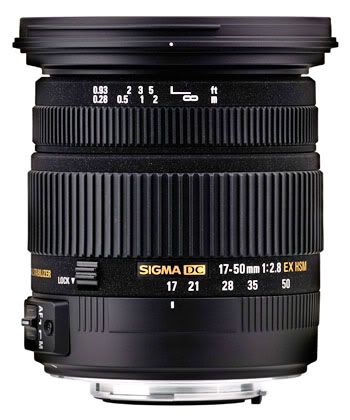 If you own APS-C DSLR and you're bemoaning the lack of a image-stabilizer on your fast wide-angle zoom, you're not alone - or at least that's what Sigma thinks. For years, manufacturers (with the exception of Canon who has a EF-S 17-55 f/2.8 IS) have not heeded the pleas of consumers who want image-stabilizer on wide-angle zooms, perhaps on the rationale that users can get away with lower shutter speeds on such focal lengths. However, Sigma chose to listen to the voices of the customers, and they have launched the new Sigma 17-50mm F2.8 EX DC OS HSM lens!
Off the specs sheet, the new Sigma ultra-wide angle looks brilliant. It covers an ultra-wide focal range, even more than the traditional 16-35mm f/2.8 lenses we're used to, and it throws in an image-stabilizer mechanism to ensure sharp images even in low-light shooting conditions. Other goodies include a compact dimension of just 3.6 inches, minimum focus distance of 11 inches (through the entire zoom range), new FLD optical glass, Hyper Sonic Motor (HSM) for quiet and high-speed auto focus, and a rounded seven-blade diaphragm for great out-of-focus background.
Interestingly, Sigma has chosen to launch the Canon mount first (at US$980), and subsequently for Nikon, Sigma, Sony and Pentax mounts in the coming weeks. A weird choice given that Canon users already have the EF-S 17-55 f/2.8 IS, and it's the other brands owners which need this unique configuration for their systems. Sigma has once again chosen their battle very carefully by delivering a niche product for the numerous DSLRs owners out there, instead of butting head-on with the camera brands by offering exactly the same focal length and aperture. And this has provided photographers with more options when it comes to camera gear and budgets. Sigma is indeed looking at the world through a different lens!