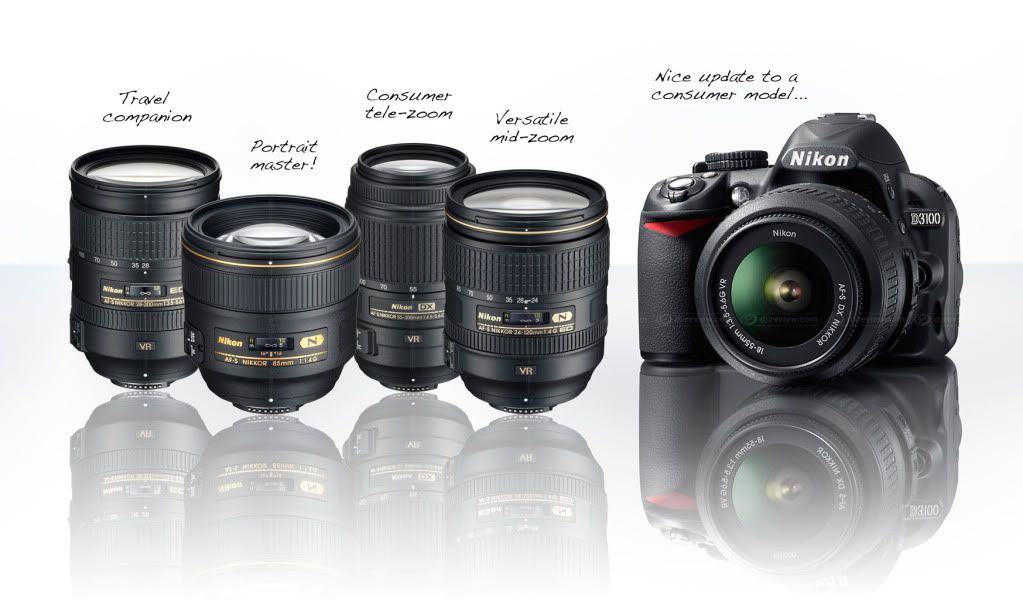 Nikon launches new entry-level DSLR, and four new lenses
You know what the say about the weather. It's always calm before a storm. So when Nikon kept silent for so many months, you'd expect something to burst out from the gates of Nippon Kogaku! It turns out that the Japanese giant has been busy, with its optical department hard at work churning out four new lenses! And the popular Nikon D3000 received an update with higher resolution and HD video recording…
The new Nikon D3100 features the same user-friendly interface with a Guide Mode, making it easy for a novice to learn photography as if there was a instructor by the side. The difference is that the new D3100 features an updated 14.2MP sensor, full HD (1920x1080) recording, as well as the popular Live View mode. All-in-all, a nice update to bring the entry-level model up to speed with the competitors.
The Canon EF 24-105mm f/4 L IS is one of my favourite lens, delivering sharpness and versatile mid-zoom range in a compact package with image stabilization. And this has been missing from the Nikon line-up for the longest time! And now Nikon has launched the AF-S NIKKOR 24-120mm f/4G ED VR, making it possible for Nikon users to enjoy a useful mid-range zoom without worries about slow shutter speed. Personally, this is really great news for FX format Nikon users. But guess what? It'd be perfect if Nikon launched a 70-200mm f/4 VR to match it as well! Ahem…
The NIKKOR 85mm f/1.4D IF has always been a legendary lens in the Nikon community, delivering superlative portraits. But it was getting old in age with the classic formula, and the autofocus speed meant that it did not excel in sports photography where it's high-speed could really help in achieving high shutter-speeds. So here comes the AF-S NIKKOR 85mm f/1.4G powered by Silent Wave Motor for fast focus speed. The successor also features a totally new optical design as well as Nikon's proprietary Nano Crystal Coat for rich colours and high contrast. It's 9-blade aperture diaphragm will also help in delivering uber-smooth bokeh for portraits. I only wished that Nikon has thrown in VR as well to make this a killer portrait lens!
For travel photographers who secretly wish for a Nikon super-zoom to fit their full-frame Nikon DSLR, (and always casting envious glasses at the DX users with their Nikon 18-200mm DX), your wish just came true with the AF-S Nikkor 28-300mm f/3.5-5.6G ED VR! It has everything you need for travel: a wide zoom range, ED lens for great quality images, VR technology for steady shots, and a minimum focusing distance of just 50 cm. Sounds yummy to a travel photographer who just wants to stick to one lens!
And finally, the Nikon AF-S DX Nikkor 55-300mm f/4.5-5.6G ED VR is designed to be a matching pair with the 18-55mm kit lens, starting off where the kit lens stops at 55mm and going all the way up to 300mm (it's actually 450mm considering the crop factor!). Silent Wave delivers quiet focusing, while VR makes sure you get nice shots despite your shaky hands.