I was shooting an assignment a week ago, and I had to lug quite a fair bit of gear. It was difficult to manage so many bags on a trolley, so I was really inspired to get one of those rolling cases so I can combine two to three camera bags of contents into one rolling case. I already have Pelican cases for my studio lights, so I'm looking for something for the camera gears. The Pelican rolling cases are nice and offer max protection, but they can be pretty hefty to lug around once they're filled.
And so I went researching for alternatives, and Lowepro came up in my list with something really interesting. It's called the Lowepro Pro Roller X300 (they've smaller versions such as the X200 and X100). What's so fascinating is that it combines some really smart feature into the rolling case that makes it really useful.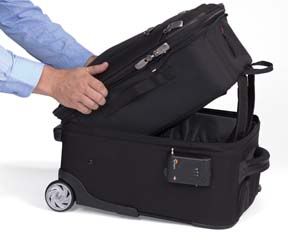 1) The rolling case is made up of a hard shell case and a inner pack that can be removed and used as a backpack. How cool is that!
2) The roller case can stand at a 45 degrees inclination so you can access it more easily than one that's lying flat on the floor. It's a big plus if you're shooting outdoors and the floor is dirty.
3) The roller wheels are user-replaceable. That's a darn good news because my buddy had one of the older version of the Lowepro roller case, and he was literally dragging (not rolling!) the case along the floor when one of the wheels broke and there was nothing he could do.
4) The extended handle serves double duty as a tripod where you can mount a camera or flash to set up a quick and dirty shot. Ok... it's really limited in practical use because the handle bar is a bit filmsy.
5) The roller case also comes with a built-in cable lock that is TSA approved, which makes the case safer to use. Not that you should check in your cameras and lenses anyway!
If I didn't do a good job of making it sound exciting enough, then perhaps you can check out the following video by Andrew Kornylak...
You can also find out more about the
LowePro X300 Roller Case here
.